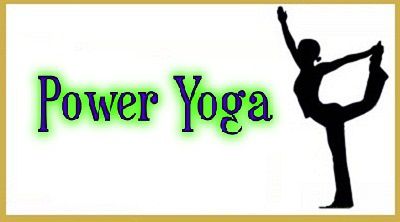 Power walking, power lunches.... And now, Power Yoga. It's the latest fitness buzzword. It is an East-meets-West routine, a fusion of yoga with functional and flexibility training, both of which train your body to perform better.


Power yoga is a general term used in the West to describe a vigorous, fitness-based approach to vinyasa-style yoga. Most power yoga is closely modeled on the Ashtanga style of practice. The term "power yoga" came into common usage in the mid 1990s, when several yoga teachers were looking for a way to make Ashtanga yoga more accessible to western students. Unlike Ashtanga, power yoga does not follow a set series of poses. Therefore, any power yoga class can vary widely from the next. What they have in common is an emphasis on strength and flexibility. The advent of power yoga heralded yoga's current popularity, as people began to see yoga as a way to work out. Power yoga brought yoga into the gyms of America.

Who Invented Power Yoga?
Two American yoga teachers are most often credited with the near simultaneous invention of power yoga: Beryl Bender Birch, based in New York, and Bryan Kest, based in Los Angeles. Not coincidentally, both these teachers had studied with Ashtanga master Sri K. Pattabhi Jois. Using the term power yoga differentiated the intense, flowing style of yoga they were teaching from the gentle stretching and meditation that many Americans associated with yoga. Another name often associated with power yoga is Baron Baptiste. Baptiste has his own method, which is only taught by teachers he certifies.

Is Power Yoga for You?
Power yoga is one of the best ways of staying fit and healthy. What is power yoga? It is basically a term used by the people belonging to the western part of the world for describing a fitness based, vigorous approach of performing yoga of vinasya style. Power yoga is described as one of the variants of Ashtanga yoga. This technique was modified to allow people in performing yoga in a more energetic, lively and appealing way. These features make it extremely popular among the people of the modern generation. The emphasis of this yoga variation is mainly on the fitness of the performer. You must have higher levels of flexibility and fitness for getting involved in this yoga form as majority of the power yoga poses are extremely difficult. The first step of power yoga training revolves around two significant approaches, synchronizing your mind and body and flushing out the toxins from your body. The next step of power yoga training will concentrate on increasing your muscle flexibility and stamina and will also work by cleansing your nervous channels.


The benefits offered by power yoga are immense. As you complete a series of postures of power yoga, you will be able to stretch and strengthen your body and have a relaxed and calm mind. The most prominent benefits offered by power yoga are:
Improvement in joint flexibility

Improved muscle strength and also tones them

Increased physical endurance and stamina

Corrects posture

Makes more mentally aware

Flushes out toxins and cleans up the system

Increases the ability of focusing and concentrating

Eases out tension and stress

Reduces aches trioggered by stress

Offers overall relaxation of mind and body

Other than the above mentioned benefits, power yoga is also done for warming up our body. This not only helps people in achieving high levels of awareness, but also eliminates the harmful bacteria from our body.
Power Yoga Weight Loss Part 1 of 4
Power Yoga Weight Loss Part 2 of 4
Power Yoga Weight Loss Part 3 of 4
Power Yoga Weight Loss Part 4 of 4
Jillian Michaels: Yoga Meltdown

Price: $9.49 & eligible for FREE Super Saver Shipping on orders over $25.
You Save: $5.49 (37%)
Price: $10.99 & eligible for FREE Super Saver Shipping on orders over $25.
You Save: $3.99 (27%)